My Blog
Posts for tag: dentures
By Foothill Smiles
January 18, 2016
People who've lost all their teeth (a condition known as edentulism) face a decision on how to restore their lost function and appearance. And there are a number of options to consider.
A fixed bridge supported by dental implants, for example, is a good choice for patients who still have sufficient bone structure in their jaw. It's not a good choice, however, for those with the opposite situation — who've experienced significant bone loss which has also affected their facial structure. For them, there's a better alternative that also uses implants for support — the overdenture.
An overdenture is similar to a traditional denture, in that it's made of life-like crowns permanently set in denture plastic, and may either partially or fully cover the roof of the mouth. The main difference, though, is that unlike traditional dentures which rest for support on the gum ridges, an overdenture is supported by strategically placed implants that the denture fits over and connects to — hence the name "overdenture."
There are a number of advantages for an overdenture, especially for patients with bone loss. A removable, implant-supported denture can be designed to replace lost tissues that have altered facial appearance — to "fill in" the face and restore aesthetic harmony. Patients who've previously worn dentures will also often find their speech better improved than with fixed bridgework.
Because it's removable, an overdenture and the underlying gums are easier to clean, which helps inhibit disease and lessen further bone loss. It also allows you to properly care for the denture, which can extend its longevity and reduce future potential maintenance and replacement costs.
If you would like to consider removable overdentures as an option, you should begin first with a thorough oral exam that includes evaluating the status of your bone, jaw and facial structure. From there we can advise you if overdentures are the best choice for you.
If you would like more information on overdentures and other restoration options, please contact us or schedule an appointment for a consultation. You can also learn more about this topic by reading the Dear Doctor magazine article "Fixed vs. Removable."
By Foothill Smiles
November 26, 2015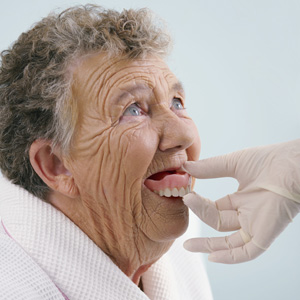 It's a common problem for denture wearers: after years of a comfortable fit, your dentures now seem to be uncomfortably loose. The reason, though, may have more to do with bone loss than the dentures.
Bone is a living tissue with a life cycle — it forms, it ages, and it eventually dies and dissolves (resorbs). It's replaced with new bone and the cycle repeats. Additionally, the forces generated when we bite or chew are transmitted from the teeth to the jaw, which helps stimulate new bone growth. When the natural teeth are missing, however, the bone no longer receives this stimulus. Resorbed bone isn't replaced at a healthy rate, which leads over time to bone loss.
Denture construction can also contribute to bone loss. The denture palate rests for support on the bony ridges that once held the teeth. Over time the compressive forces of the dentures apply damages and reduces the volume of gum tissue and eventually does the same to the bone. Combining all these factors, the reduced gum and bone volume will eventually alter the denture fit.
There are a few alternatives for correcting loose dentures. One is to reline them with new plastic, as either a temporary fix performed during an office visit or a more permanent relining that requires sending your dentures to a dental lab. Depending on the rate of bone loss, a patient could go through several denture relinings to accommodate ongoing changes in the jaw. At some point, though, it may be necessary to create a new set of dentures.
A third alternative that's becoming increasingly useful is to incorporate dental implants into the denture design. Implants can of course be used to replace individual teeth, but a few strategically placed implants (usually of smaller dimension) can serve as a support platform for a removable denture. This relieves some of the compression force of a traditionally worn denture and can slow bone loss.
If you're having problems with your denture fit, call us for an appointment. We'll help you decide on the best alternative to improving the fit and making your dentures more comfortable and secure.
If you would like more information on refitting loose dentures, please contact us today to schedule an appointment for a consultation. You can also learn more about this topic by reading the Dear Doctor magazine article "Loose Dentures."
By Foothill Smiles
June 11, 2014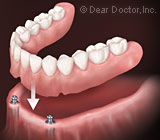 Think you already know all about dentures? Answer the following questions, and see whether your understanding of false teeth is more true than false.
True or False: About one-quarter of the U.S. population has none of their own teeth left by the age of 65.
Answer: True
The technical term for the complete loss of all permanent teeth is edentulism, and it's a big issue, affecting 26% of adults between 65 and 74 years of age. Without treatment, many individuals not only suffer a reduced quality of life, but also risk nutritional problems and systemic health disorders. Dentures are a reliable and affordable way to replace their missing teeth.
True or False: Tooth loss has nothing to do with bone loss.
Answer: False
Far from being a fixed, rigid substance, bone is actually growing and changing constantly. In order for it to stay healthy, bone needs constant stimulus. For the alveolar bones of the jaw, this stimulus comes from the teeth; when they are gone, the stimulus goes too, and the bone resorbs or melts away. The missing bone mass can cause changes in facial features, difficulties with eating, speech problems and other undesirable effects.
True or False: Once the teeth are gone, there is little that can be done to mitigate bone loss.
Answer: False
While a certain amount of bone loss is unavoidable, it can be minimized. The techniques of bone grafting may be used to create a "scaffold" on which the body can restore its own bone tissue. Bone loss can also be limited by retaining the roots of teeth that had previous root canal treatment, even when the crowns must be removed. Perhaps the best way to limit long-term bone loss is the use of dental implants, which restores function and prevents excessive resorption from tooth loss. When tooth loss is inevitable, a pre-planned transition to dentures offers the opportunity to retain as much bone as possible, and avoid future problems.
True or False: There are many options available to make wearing dentures a fully functional and comfortable experience.
Answer: True
Fabricating prosthetic teeth is a blend of science and art. Not only must the appearance of the teeth and gums be made to look natural, but the fit has to be exact and the bite must be balanced. After a little practice, most people subconsciously adapt to the slightly different muscular movements required when wearing dentures. For those few who have difficulty, hybrid forms of implant-supported dentures may offer an alternative. In all cases, developing a partnership of trust between a skilled clinician and an informed patient is the best way to ensure that the experience will be a success.
If you would like more information about dentures, please contact us or schedule an appointment for a consultation. You can also learn more about this topic by reading the Dear Doctor magazine article "Removable Full Dentures."