My Blog
Posts for: September, 2014
By Foothill Smiles
September 24, 2014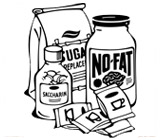 If you're watching your weight or living with diabetes, you probably know the advantages of satisfying your sweet tooth with sugar substitutes rather than the real deal. Did you know that sugar substitutes can also help reduce your risk for tooth decay? One particular sugar stand-in, xylitol, might actually promote oral health!
Sugar substitutes are food additives that mimic the taste of sugar but supply little to no food energy (nutrition) and therefore zero or few calories. This is because they generally cannot be digested and absorbed by the body. They pass through largely unused and have little to no effect on blood sugar levels. Oral bacteria aren't able to process sugar substitutes either. They get significant nutrition from "real" sugars that pass through the mouth — generating tooth-eroding, cavity-promoting acids in the digestive process. A diet of artificial sweeteners eliminates or significantly curtails the acidity problem and essentially starves the "bad" bacteria so more tooth-friendly bacteria can crowd them out.
The Food and Drug Administration (FDA) has approved 6 artificial sweeteners (synthetically produced zero-calorie sugar substitutes) for use in the U.S.:
Acesulfame K — Sunett®, Sweet One®
Aspartame — Equal, NutraSweet
Neotame — a modified form of aspartame
Saccharin — Sweet'N Low, Sugar Twin
Sucralose — Splenda
Rebaudioside A — Truvia, Sun Crystals, Stevia in the Raw
There also are naturally occurring low-calorie sugar alcohols (polyols), used alone or in combination with an artificial sweetener. They are incompletely digested and absorbed slowly so the amount of calories they generate is minimal. Commonly used polyols include erythritol, maltitol, mannitol, sorbitol and xylitol. Research suggests that xylitol may help prevent tooth decay and promote oral health by reducing levels of the major acid-producing bacteria in the mouth, Streptococcus mutans.
Despite their virtues, there is debate regarding the safety of sugar substitutes — synthetic ones in particular. Currently the focus is on how they may affect taste perception, metabolism, and eating habits. From a dental perspective, however, the overall benefits for using xylitol are pretty clear!
If you would like more information about nutrition and oral health, please contact us or schedule an appointment for a consultation. You can also learn more about this topic by reading the Dear Doctor magazine article "Artificial Sweeteners."
By Foothill Smiles
September 09, 2014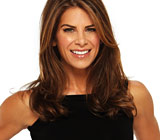 Anyone who has seen fitness and life coach Jillian Michaels on The Biggest Loser and Losing It with Jillian knows she has the expertise and determination to help overweight people reach new levels of fitness and health. Using her own difficult life experiences, Jillian is able to help others look below the surface to the roots of their own unhealthy lifestyles. As a child, she suffered from night terrors, then her parents divorced when she was 12. She reacted to her anger and unhappiness by comforting herself with food. By age 17 she weighed 175 pounds — too much weight for her small 5'2" frame. To get Jillian involved in physical activity, her mother signed her up for a martial arts class. It was the right choice. Jillian loved the physical and spiritual aspects of martial arts practice, and this training pointed the way to what ultimately became her career.
It's no wonder Jillian is concerned about America's obesity problem — especially in children. To counter it, she and a business partner put together a Wii game, "Jillian Michaels' Fitness Ultimatum." "If you turn exercise into a game, it's much easier to get kids to join in," she says.
For adults, Jillian is concerned with unhealthy body images put forward by the fashion industry and media. She says, "Educating women on the importance of a healthy diet and exercise program is essential, but getting them to realize that women are supposed to have curves is equally important." She is working on a new book, which is designed to help people live a healthy lifestyle, realize their true potential, and find happiness in just being themselves.
Since good health also includes good oral health, here's a sampling of what Jillian discussed about healthy habits in her interview with Dear Doctor magazine.
How can parents encourage their children to have healthy habits? Jillian says it starts with parents setting a good example. Parents can persuade children to get exercise by going outside to play with them. Gardening together and serving kids home-grown vegetables is a good way to encourage healthy eating.
What is her dental care routine? Jillian brushes her teeth two or three times a day with an electric toothbrush and she flosses daily. She never leaves home without toothpaste, an electric travel toothbrush, and floss as well as some sort of lip gloss. She sees her dentist, whom she calls "amazing," at least twice a year for cleanings.
How does she guard against damage from martial arts? Jillian broke her two front teeth as a child and had them repaired with crowns. Now she wears a mouthguard when doing vigorous exercise.
What other cosmetic dental procedures has she had? She also had braces and has had her teeth whitened.
Jillian knows that it takes hard work and commitment to health and exercise, along with good oral health habits, to look and feel your best. You can learn more about Jillian by reading the entire interview in the article "Jillian Michaels: The Biggest Loser's health and wellness expert talks about her oral health, keeping fit and plans for the future." Contact us today to discuss your questions about tooth whitening, crowns, or mouthguards or to schedule an appointment.